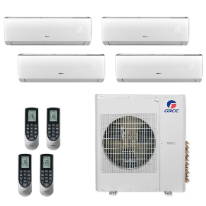 QUAD ZONE
4-ROOM MINI SPLIT SYSTEMS
SINGLE ZONE
1-ROOM MINI SPLIT SYSTEMS
PENTA ZONE
5-ROOM MINI SPLIT SYSTEMS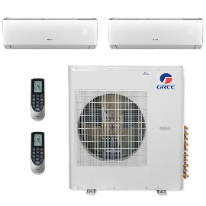 DUAL ZONE
2-ROOM MINI SPLIT SYSTEMS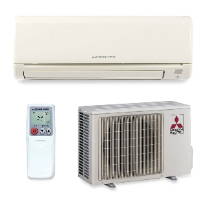 ALL DUCTLESS
MINI SPLIT SYSTEMS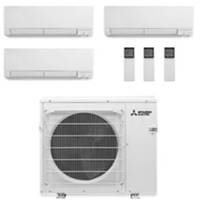 TRI ZONE
3-ROOM MINI SPLIT SYSTEMS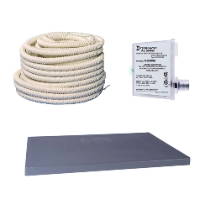 DUCTLESS MINI SPLIT
ACCESSORIES
12,000 - 15,000
BTU Systems
18,000 - 24,000
BTU Systems
30,000 - 36,000
BTU Systems
PERFECT FOR MOST APPLICATIONS - THE POSSIBILITIES ARE ENDLESS
  * RV'S
  * STUDIOS
  * CHURCHES
  * LIVING ROOMS
  * APARTMENTS
  * CONDOS

* BEDROOMS
* BATHROOMS
* GARAGES
* BOUTIQUES
* CONFERENCE ROOMS
* SERVER ROOMS

* BONUS ROOMS
* MAN CAVES
* SHE SHEDS
* SPAS
* BASEMENTS
* LIBRARIES

* GREEN HOUSES
* MOBILE HOMES
* DOCTOR OFFICES
* SUN ROOMS
* BANQUET HALLS
* INDOOR PLAYYARDS

* SCHOOLS
* DAYCARES
* RESTAURANTS
* ATTICS
* DINING ROOMS
* BREAK ROOMS

* PORTABLE OFFICES
* FITNESS CENTERS
* SMALL BUSINESSES
* KITCHENS
* DOG HOUSES
* AND MORE!

DUCTLESS MINI SPLIT AC SYSTEMS - HOW THEY WORK (Video)
WHAT IS A DUCTLESS AIR CONDITIONER?
As its name implies, a ductless mini split system is a type of cooling and heating system that is
It doesn't use or require ductwork. Think of a system that does away with all those bulky network of solidly fabricated tubes that run through your home's ceiling, walls, or even floors and routed through different parts of your home, especially if you have a central air conditioning unit, using a baseboard heater, or utilizing a radiator system. With ductless mini split, you can ditch these ducts for good.
It is compact, which means it is designed small but performs just as good as any other system. Comparatively, it is actually more powerful, energy-efficient, versatile, cost-saving, and environment-friendly than any other traditional system.
The term "split" refers to the way a ductless mini split is designed with two separate but interconnected components—an outdoor compressor unit and an indoor evaporator unit, which typically, is also the air handler. If you're wondering why most traditional ACs, like a window-type unit, are noisy and clunky, it's because these systems are built with the compressor and the air handler packaged in one single unit that is mounted indoor. With ductless mini split, you are basically having a system where the typically noisy compressor unit is placed outside the house. What you're installing inside is the compact, highly unobtrusive air handler.=
In a mini split system, the outdoor unit that is placed outside the house is connected to the indoor unit which is mounted inside your home by a set of piping and wiring systems that are usually passed through a small hole in the wall (usually just a 2 ½-inch hole or a 3-inch hole), linking both units as one single system. The pipes are usually the cooper tubing called line set or refrigerant lines, while the wires are usually the electrical wiring system connects the unit to a power outlet.

TYPES OF DUCTLESS AIR CONDITIONER SYSTEMS
Ductless mini split systems come with many advantages that you would not normally get from other types of systems. These exceptional benefits include the following:
Single Zone vs Multi Zone
With ductless mini split, you have a system that is flexible enough to be installed in any type of environment or application. Specifically, it enables you to take control of your comfort and energy costs by having the option to choose the temperature that you need in each room inside your home and turn on or off the system that's not being used. By using a mini split system, you will be able to deploy a climate control system that you can use in two basic types of installation configuration:
Single Zone Cooling/Heating
As an individual system, a ductless mini split is best for targeted heating and cooling. Offering precise temperature control, you can simply use it to cool or heat a room, especially those specific areas where ductwork is not present, can't be installed, or expanding it might be too expensive, not practical, or just entirely not possible. As a particular example, think of a garage, basement, attic, bonus room, or any room addition.
Multi-zone Cooling/Heating
As a perfect solution for comfort/temperature zoning, a mini split system can also be used as a whole-home comfort solution. This will only require one outside compressor unit which you can connect to two or more air handlers that are mounted in separate rooms inside the house. You can actually connect up to eight indoor units. The best thing about this setup is you'd be able to control the temperature in each room, depending on your preference. Now you can say bye to bye to hot or cold spots and be completely in control over your comfort.

TYPES OF DUCTLESS AIR CONDITIONER SYSTEMS
Single Zone Cooling/Heating
As a reversible system, a mini split can cool or heat your home, either as an air conditioning system or as a heat pump. This unique feature makes it one of the most cost-effective and versatile comfort solutions. Although you can use a mini split as a complementary system, it is also best to use as a standalone system, whether you want to cool/heat a single room or the whole house.
High Energy-efficiency, Huge Savings
Energy Star-rated, available with the highest SEER in the market, and designed with the best energy-saving components and functionalities, mini splits typically consume less energy for the same amount of work that traditional systems do. With lesser energy use, you are assured of higher savings on your energy bill.
All-Weather, All-Season Comfort
Most mini splits are inverter-driven, making them more efficient in cooling/heating your home no matter the weather or the season, ensuring you a consistent year-round comfort.
Advanced Features, Superior performance
Most mini splits bring exceptional capabilities through a range of highly advanced features and components—from the powerful compressor to highly intuitive controls. This ensures you maximum comfort experience through superior performance from a superior comfort solution.
Easy and Low-cost Installation, Versatile Applications
Unlike traditional systems, mini splits are very easy to install. Because they don't require the bulky and often costly ductwork, you can install it anywhere. This makes them cost-effective, highly versatile, and a perfect alternative if you have some complex application or specific cooling or heating issues that you can't easily tackle using the traditional systems.
With some highly advanced mini splits, extreme weather is no problem at all. Whether it's a freezing cold or a scorching heat, mini splits can give you comfort just the same. In the case of mini split heat pumps, they actually have superior thermal performance, enabling you to consistently enjoy warm comfort even during extreme cold climate conditions.
Smart Operation, Personalized Comfort
Ductless mini split units come with an array of smart operational functionalities and control options that enable you personalize your whole comfort experience. With mini splits, you will have a range of options—whether you want to control the fan speed, adjust the airflow, time the unit's operation, or set the room temperature, among many other things.
Quality Air Filters, Healthier Indoor Air
Mini splits have built-in advanced air filters. Through multi-stage filtration, mini splits are able to deodorize bad odors and eliminate at least 99.9% of harmful airborne contaminants inside your home. These quality filters also help maintain the reliability of the system by keeping out dusts and particles that can clog and damage the internal components of your mini split. Some mini split air filters are easy to access, remove, clean, or replace. They usually last for many years.
Remote Access, Mobile Control
Some really advanced mini split models are Wi-Fi-enabled. This means that you can connect these units to the internet and conveniently control the whole system directly from your smartphone or any mobile device where a dedicated mobile app is installed.
Less Noise, More Convenience
Adding to your convenience, mini split systems operate at very low sound levels. Most indoor units run very quietly (barely the sound of a whisper) that you wouldn't even noticed that it's in operation mode.