PARTS WARRANTY COVERAGE
OF YOUR HVAC SYSTEM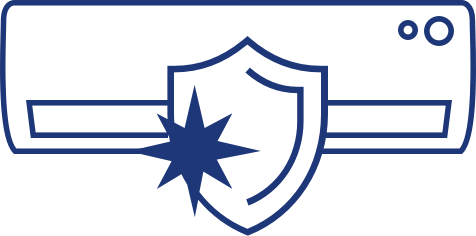 Since buying HVAC products over the internet has now become common practice, ComfortUp understands all HVAC manufacturers' concerns and embraces their worries with only promoting installations to be performed by HVAC professionals.
HVAC products should be installed to the manufacturer's specifications by trainedand licensed HVAC professionals. This assures the highest unmatched performance, product reliability and brand integrity. Failure to use the services of a Licensed Professional for your installation will result in void of coverage. Once your equipment has been installed BE SURE to properly register your equipment. Registrations are verified at time of Warranty Claim, should one arise.
Please refer to the Warranty Documents on the product detail page of your item for full information on how to properly register your item.
ComfortUp will back up 100% of the Parts Warranty offered by the manufacturer for the units purchased from us (Labor and Refrigerant are not part of this coverage). This assures piece of mind after the purchase of Air Conditioning and Heating products.
Please note, Warranty Parts are non-refundable once purchased. The only way to receive reimbursement for your Warranty Claim is by returning the defective part removed from service within 30 days. If an incorrect part is diagnosed by your installer and purchased, it is not returnable under any circumstance.
Frequently Asked Questions:
1. ComfortUp offers these products to the end-user, why not promote self-installation?
* While there is an opportunity to sell much more product by promoting self installation, we believe that the only way customers can be certain of full warranty protection is having your system installed by HVAC professionals. These steps ensure that all HVAC products are installed properly, in compliance with applicable laws, rules and codes, and in a manner that addresses safety concerns.
2. Is it illegal for uncertified individuals (i.e. homeowners / consumers) to purchase their
own HVAC products from a wholesaler?
* Wholesalers may sell different components of pre-charged split systems at different times to uncertified individuals as long as the wholesaler has reason to believe that these will be assembled into new split systems.
3. What does the sales restriction cover?
* The sales restriction covers all CFC and HCFC refrigerants, except for refrigerants contained in air conditioners and refrigerators. Thus, the restriction covers refrigerants contained in bulk containers (cylinders or drums), and includes refrigerant blends containing HCFCs (e.g., FRIGC FR-12, Free Zone, Hot Shot or R-414B, GHG-X4 or R- 414A, Freeze 12).
Note: Effective January 27, 1995, the restriction on the sale of pre-charged split systems has been stayed. The restriction excludes refrigerant contained in refrigerators or air conditioners, such as:
* Household refrigerators, window air conditioners, packaged air conditioners, and components of split systems
* Pure and blended HFC refrigerants that do not consist of an ODS (e.g., R-134a, R- 410A, R-404A are excluded)
This excerpt was taken from EPA website under the link:
http://www.epa.gov/Ozone/title6/608/sales/sales.html#q7
4. If a part should fail how do I obtain the warranty replacement?
Please contact us at info@comfortup.com. Warranty Claims require a completed ComfortUp Warranty Claim Form. Once we have received proper documentation, we will issue you a Warranty Authorized Return Number (WAR). The WAR Number issued MUST be noted on your package in order for our warehouse to accept the package. ALL OTHER PACKAGES WILL BE REFUSED. Some manufacturers require their own Case Number which will be confirmed prior to issuance of a ComfortUp WAR Number.
* After a warranty claim is properly filed and processed with ComfortUp, the consumer can choose from two of the following options to obtain the replacement part(s):
Advanced Warranty Replacement:
* We ship the replacement Warranty part to you first, before receiving the defective part. You have 30 days to send us the defective part. A credit card payment for the new part is required to insure that we receive the returned defective part within 30 days from the date on which the replacement warranty part is shipped. Once the defective part is received and verified, a reimbursement will be made for the new part.
Standard Warranty Replacement:
* We will ship you the replacement warranty part, after we have received your defective part. We do not require a credit card payment for the standard warranty replacement.
ComfortUp has selected the finest HVAC products in the industry to sell and we have assembled the best and most knowledgeable sales and service agents to provide you with the highest service possible. We have spent countless hours assembling this team to serve your current and future needs.