At ComfortUp, we want to help you save money in all aspects of life, whether it's making sure we're offering low prices on our products, always having great promotions, giving you Free Shipping on orders over $399, providing energy efficient products that can help you save on your energy bills, and more. That is why we have begun a program to partner with companies that can offer you savings on products and services you might need, or a chance to earn cash-back or giftcards as rewards for things you're already purchasing.  
Below you will see our partners and a little information about each one. We encourage you to do your own independant research to determine which options are right for you. Then, when you're ready to sign up, use our CODE or LINK to get bonuses. This list will be forever growing as we continue to partner with reputable companies, so check back often.
EARN CASH BACK AT GAS STATIONS,
GROCERY STORES AND RESTAURANTS
It's easy! Just tap Check In or snap a pic
Watch your money grow
Over $1,000,000 earned every week!
Cash out anytime
Earn cash back AND actually help businesses
Feel Good about every fill-up
To earn EXTRA BONUSES,
signup with code: 65GU7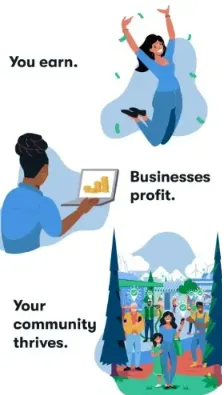 SAVING ON THE THINGS YOU'RE ALREADY
BUYING HAS NEVER BEEN SO FUN
Save on Your Favorites
Explore over 500 brands helping you earn even more in the app.
--- Some examples are: Starbucks, L'oreal, Betty Crocker, Blue Moon, Cheerios, Pepsi, Kleenex, Breyers, Beyond Meat and SO MUCH MORE!
Treat Yourself to the Things You Love
Cash out your points for gift cards from some of your favorite stores and online shops.
--- Some examples are: Amazon, Target, Walmart, Starbucks, Chipotle, Dunkin Donuts, CVS Pharmacy, AirBnB, Uber and SO MUCH MORE!
To earn EXTRA BONUSES,
signup with code: 27DAYY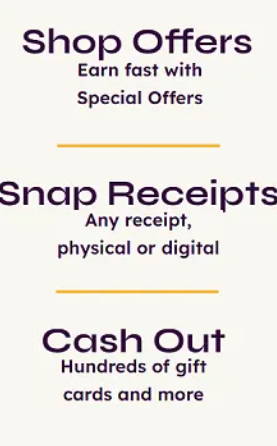 CHECK BACK...


MORE PARTNERSHIPS COMING SOON!